MORE PRETZELFAN IMAGES AND A SPECIAL LINK!!
PRETZELFAN IMAGES!!
I'll admit, these aren't the best quality images. I mean, the performers are good, but the quality of the video leaves a little to be desired. The first bunch are a group of gymnastics students showing off their trick routines. Then a performance by a foursome of contortionists who apprear to be the four women who used to perform for Cirque du Soliel..maybe?
DOWNLOAD HERE! (ZIPFILE..AROUND 350KB)
---
THE SURPRISE!
I was stumbling through my 'bookmark' file on my browser the other night, and I clicked on a Circus website from Sweden. One of the links was for a website called 'DIANA ART'. Well, I was happy to find that there were a collection of wonderful circus performers from Bulgaria highlighted on the site, including a young contortionist whose images you see below...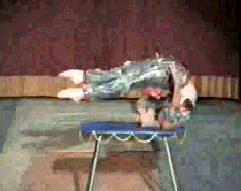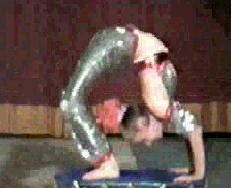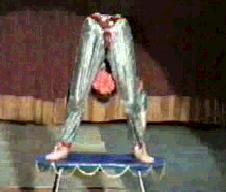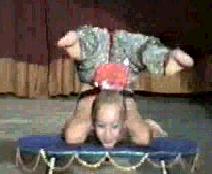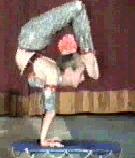 These are actually video snaps of a mpg video of her performance that you can download. There are many other photos of her and a number of other very good circus performers on this webpage.
CLICK HERE TO VISIT THE PAGE RIGHT NOW!!
Thanks for visiting FLEX CITY!
Comments..questions..e-mail me!