THE PREZELFAN COLLECTION...(UPDATED 10/19/98)
I received a number of videotapes a while back from a fellow contortion fan. I copied them (close to 10 hours worth!), and have started to make some videocaptures of some of the tape.
The latest batch of shots can be found below. Check out the thumbnail shots for a sneak preview of the full size images you'll get. As usual, the quality is not exactly deluxe, since the tape quality itself isn't very good.
But, you be the judge. Just download the files, unzip them, keep what you want and delete the rest. If you have any comments or complaints, just e-mail me
THANKS TO PRETZELFAN, WHO WAS NICE ENOUGH TO LEND ME THE TAPES!
DOWNLOAD ZIP FILE ONE DOWNLOAD ZIP FILE TWO
DOWNLOAD ZIP FILE THREE DOWNLOAD ZIP FILE FOUR
DOWNLOAD ZIP FILE FIVE

DOWNLOAD ZIP FILE SIX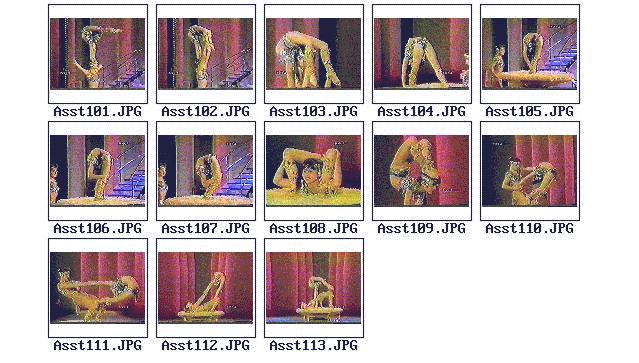 CHECK IN AGAIN SOON!! THERE ARE PLENTY OF OTHER ROUTINES TO BE CAPTURED!!